Genius Tools 1/2" Dr. 21mm Torque Socket, 60 ft.lbs.(81Nm) - 421M060
PRECISE TORQUE APPLICATION - 1/2" Drive 21mm Torque Socket with a rating of 60 ft-lbs/81Nm for accurate tightening of fasteners.
SPECIFICATIONS - 1/2" Inch Drive Size with an overall length of 206mm (or 8.11 Inches)
DURABLE MATERIALS - Made from Chromium-vanadium Steel Alloy for high strength and durability while having anti-corrosive properties
SECURE FIT - 1/2" drive size ensures a secure and precise fit on compatible ratchets or torque wrenches.
EASY IDENTIFICATION - Clearly marked torque rating (60 ft-lbs/81Nm) for quick and easy selection of the appropriate socket
QUICK WITH HIGH ACCURACY - Quick and easy to use Torque Extensions or Sticks allows users to quickily and easily torque fasteners and lug nuts with impact tools. Our torque extensions are tested to be highly accurate with an error of 4% or less.
PEACE OF MIND - Purchase with confidence backed by the Genius Tools Limited Lifetime Warranty against manufacturer defects
ANSI STANDARDS - Meets or exceeds the standards established by the American National Standards Institute
PROFESSIONAL GRADE - Genius Tools are designed and made for use by professional technicians and built to perform over a lifetime of heavy use. Trust Genius for a quality tool at a value cost to you.

Item No.
Color
Wrench
Size
Torque Limit
Length
mm
Weight
G
PCS
G.W.
kgs.
CUFT
Code
@
417M055
Green
17mm Hex
55 ft.lb. (75Nm)
206
260
50
13.5
0.80
002760
417M080
Red
17mm Hex
80 ft.lb. (108Nm)
206
290
50
15.0
0.80
002760
419M065
Yellow
19mm (3/4") Hex
65 ft.lb. (88Nm)
206
310
50
15.5
0.80
002760
419M080
Blue
19mm (3/4") Hex
80 ft.lb. (108Nm)
206
340
50
18.0
0.80
002760
419M100
Gray
19mm (3/4") Hex
100 ft.lb. (135Nm)
206
360
50
18.0
0.80
002760
421M060
Black
21mm Hex
60 ft.lb. (81Nm)
206
310
50
16.0
0.80
002760
421M080
Orange
21mm Hex
80 ft.lb. (108Nm)
206
340
50
17.0
0.80
002760
421M147D
Dark Gray
21mm Hex
147 ft.lb. (200Nm)
220
450
50
23.5
0.80
002880
422M120D
White
22mm Hex
120 ft.lb. (163Nm)
220
420
50
22.0
0.80
002880
422M140D
Aqua
22mm Hex
140 ft.lb. (190Nm)
220
440
50
23.0
0.80
002880
426S100
Brown
13/16" Hex
100 ft.lb. (135Nm)
206
380
50
19.0
0.80
002760
430S140D
Lime
15/16" Hex
140 ft.lb. (190Nm)
220
470
50
26.0
0.80
002880
434S140D
Biege
1-1/16" Hex
140 ft.lb. (190Nm)
220
490
50
27.5
0.80
002880
The Genius Tools 1/2" Dr. 21mm Torque Socket is a high-quality tool designed to deliver precise torque application in various automotive and mechanical applications. With its durable construction and accurate torque rating, this socket ensures optimal performance and reliability.
Accurate Torque Application: Engineered for precise torque tightening, this socket features a 21mm size with a torque rating of 60 ft-lbs/81Nm. This allows for consistent and controlled tightening of fasteners, ensuring proper assembly and preventing over-tightening or under-tightening.
Durable Construction: Crafted from premium Chrome Vanadium Steel (CR-V), this torque socket is built to withstand the demands of heavy use. Its robust construction ensures longevity and durability, making it a reliable tool for professional technicians and DIY enthusiasts alike.
Precise Fit: The 1/2" drive size of this socket provides a secure and precise fit on compatible ratchets or torque wrenches. This allows for efficient torque transfer and reduces the risk of slippage during use, ensuring accurate and reliable results.
Easy-to-Read Torque Rating: The torque rating (60 ft-lbs/81Nm) is clearly marked on the socket for easy identification. This helps technicians quickly select the appropriate socket for their specific torque requirements, saving time and ensuring accurate torque application.
Versatile Applications: This torque socket is ideal for a wide range of automotive and mechanical tasks, including suspension work, engine repairs, brake jobs, and more. Its reliable torque application ensures proper tightening of critical components, contributing to the overall safety and performance of the machinery.
Invest in the Genius Tools 1/2" Dr. 21mm Torque Socket (60 ft-lbs/81Nm) and experience precise torque application for your automotive and mechanical projects. Order yours today and enjoy the reliability and accuracy of a professional-grade tool.
Details:
More Information

| | |
| --- | --- |
| upc | 193016869522 |
| Brand | Genius Tools |
| Type | Wheel Torque Tools |
The Genius Tools Philosophy
Professional grade tools that you can trust to work for a lifetime of professional use, but at a reasonable cost like it should be. We make tools with a quality that is equal and, in many cases, superior to our competitors, but at a value that you'll want to fill your box with Genius Tools. Give our tools a try, and we assure we'll earn your trust. With 10,000+ items from automotive to heavy industrial, we have every tool to get any job done the right way.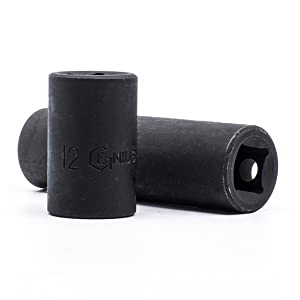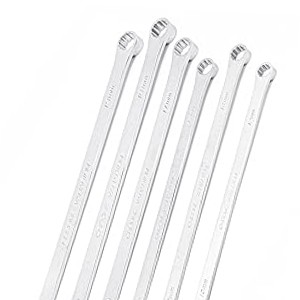 History of Genius Tools: Manufacturing Professional Tools Since 1975
Genius Tools' commitment to creating quality tools dates back to 1975 and that tradition continues today – as we strive to engineer, manufacture and develop tools that the professional technician needs to get the job done. Over the years we have developed a wide range of hand tools, pneumatic tools, automotive tools, and tool storage, providing over 10,000 unique items. We are proud to provide tool solutions to professional users worldwide.